As a professional
Gas Burner Mini
manufacturer, supplier,with factory in Taiwan, we supply remarkable
Gas Burner Mini
for our customers. Our high quality and reliable products were in accord with international standard. If interested, please
contact us
for more information.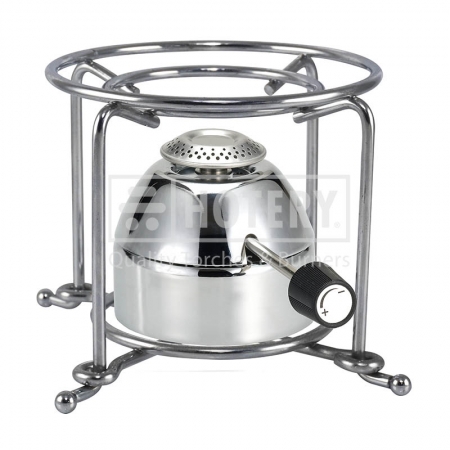 Model: HT-4022XCM + ST-08
Gas Burner Mini
Product name: Mini gas burner with stand
Specification:
1. Refillable butane burner and an optional wire stand is available upon request
2. Piezo electric ignitor is required to lit on since it is manual type burner
3. Regulator allow for flame adjustment with a rod as built
4. Ergonomic dome shape tank design in chrome finish made of stainless steel
5. Suitable for a variety of cooking application including fondues, warming food and soups, stove-less kitchens and camping
6. Certification are known to make and use for worldwide standard.

Enquiry Now +
Enquiry Now -
We guarantee we must make you satisfy with our product and service. Therefore, if you have any question about our
Gas Burner Mini
, you can tell us. We will give you early reply. If you are interested in our product or you want to inquiry, please feel free to
contact us
or you can email to us. Join us right now!